Check Cashing Application
Customer Identification and Tracking
System stores customer data including ID image and Biometric finger data to identify the customer. The check images are stored in the database for 3 months and bad checks (NSF/Fake/Account closed) are tracked in the system. Customer data retrieved from the magnetic stripe of the ID to avoid data entry errors.
Track Customer Transaction
Check images are scanned using MagTek scanner and data retrieved from MICR of the check.
Reports
Daily end of day reports and detailed transaction reports are generated.
Check Scanner
MagTek Excella STX Document Scanner is used to scan checks. For further information please see
specification and configuration
OR
download
the product manuals. Call 416-571-1075 for demo access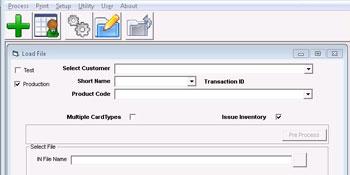 Card File Processing Application
Data Management
Create customer profile, setup input and output file layout, setup reports.
Process Data
Process data files based on initial setup, generate production files, print labels[up to 4 sets], work order, vault voucher, prepare Pin Mailer and Card Carrier print files.
Tracking
Record job movements and shipping information, print job status reports.
Carrier Printing
Mail merge word document with carrier file.
Other features
Sequential number generation, Random number generation, Mod10 Check digit barcode generator, Secure Pin generation using DES encryption.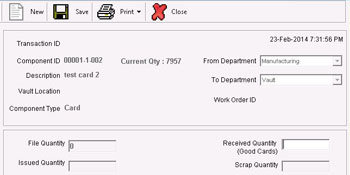 Card Inventory Tracking System
Inventory Tracking
System helps track card and collateral inventory every time a customer is processed.
Security
System access is restricted based on user roles (Full access/Read only/Collateral issue)
Reports
Detail inventory reports and transaction reports are generated for each customer.